Freight Logistics
At Nationwide, we have built a strong reputation for providing superior transportation services throughout all 50 states. From corporate auto relocation to the one time transferees, from the classics to the exotics, or any freight requiring flat bed, lowboy, dry van or special handling, our commitment to providing unsurpassed customer service continues as we seek to meet the ever increasing demands of the freight world.
The type of trailer that your freight (cargo) will be shipped on is determined by the size and weight of the freight. There are two different types of freight transportation based on weight, Full Truckload (FTL) and Less than Truckload (LTL). Oversized freight that will not fit on standard sized trailers requires specific types of trailers such as a flat bed or lowboy. Regardless of size or weight of your freight, we work to accommodate our clients' logistical needs in the most cost-efficient way possible.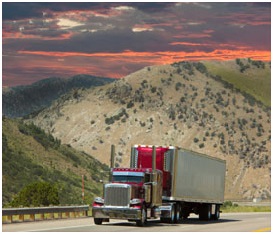 Full Truckload (FTL)
Nationwide has partnered with the nation's best carriers to provide a wide variety of full truckload (FTL) options. FTL shipments require a full truck space. Full truckload options are for large shipments that include everything from refrigerated van loads to specialized equipment, removable goose-neck (RGN), flatbed, and heavy haul trucking. FTL is a suitable option for transporting freight shipments weighing between 10,000 pounds and 45,000 pounds or are more than 15 feet long. With Full Truckload shipments, trucks are typically routed directly to their destination.
Less than Truckload (LTL)
For shipments that will not fill an entire truck, Less than Truckload (LTL) offers unparalleled convenience and cost savings for domestic shipping. Nationwide has partnered with some of the finest carriers in order to negotiate the best possible rates. Usually LTL shipments are between 151 and 20,000 pounds. LTL carriers collect and consolidate freight from various shippers and brokers to fill their trucks. Standard LTL trucking is the most cost-effective over-the-road service. Expedited LTL is available for shipments on a deadline or schedule. Also, shippers with enough LTL freight can opt for a Full Truckload with direct delivery with possible multiple stops to distribute freight to required destinations.