Open Transport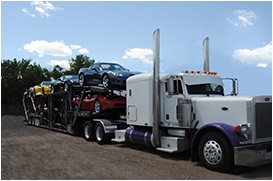 Nationwide's network of elite open carriers range from one- ton diesel trucks with single car trailers to full size semi ten-car carriers. Ten-car carriers are the type of trucks you see delivering new cars to the dealerships. These trucks are very large in size, 75 to 80 feet in length and close to 14 feet in height. No matter how large or small the carrier, you can feel secure in knowing that your vehicle is on its way to its destination in a safe environment.
All of our carriers are fully insured. We work to ensure that your vehicle arrives at its destination in the same condition it was in when it left your care. Nationwide Auto Transport provides door-to-door service, but with these trucks door-to-door service can at times be limited. If for some reason the carrier cannot access the desired pickup or delivery location, a convenient, alternate location is arranged near a major road or parking area in your community.
Enclosed Transport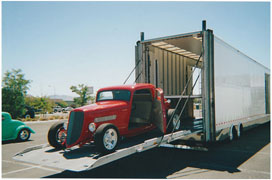 Nationwide's enclosed transport service provides the ultimate protection for your vehicle during shipment. All vehicles are transported inside an enclosed trailer. Our enclosed carriers are the finest in the business. When transported in an enclosed carrier your vehicle has added protection from exposure to weather extremes and potential road hazards. If low ground clearance is an issue, lift gate trailers are available. Lift gate trailers minimize the chance of undercarriage damage and is the preferred type of trailer used in the transporting of classic, antique, and exotic vehicles.
Nationwide prides itself on door-to-door service. However, due to the size of the trucks, some locations are not accessible for the carrier. If there is an accessibility issue, the driver will make loading and/or unloading arrangements with you at a close, convenient, and accessible location. Nationwide's carriers provide $1,000,000 in liability protection with $100,000 of cargo insurance. At Nationwide, we want to make sure you have a positive experience. Our goal is to provide our clients with "A Higher Standard" of service.